| | |
| --- | --- |
| | |

Thank you for your interest in the MultiFlex Dental Insurance Plan Underwritten by Nationwide Life Insurance Company. A family membership covers the head of household including spouse, and your unmarried children ages 19 or younger, and extends to age 23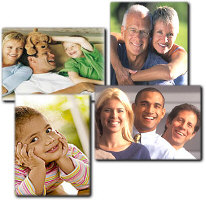 if the dependent is a full-time student who is living at home. Your acceptance into this dental insurance plan is guaranteed while offering coverage for basic, preventative, and major dental services.


Enjoy this dental insurance plan by selecting your own personal dentist... and best of all, the hassle of finding a dental office within a network is gone! The plan will pay for your covered expenses when the dental services are performed by a licensed dentist acting within the scope of his/her license; a licensed physician performing dental services within the scope of his/her license, and/or; a licensed dental hygienist acting under the supervision and direction of a dentist.


The waiting period for basic services is only six months. You can enroll anytime you prefer... Just a reminder that your online request must be processed on or before the last day of the month for coverage to be effective the 1st of next month. Please review the dental benefit co-payments below and see how easy it is for you or your entire family to enjoy these quality dental services.
Need Help? Call us...
Office: 310-534-3444

A reminder our office is open Monday - Friday 8am - 5pm PST. We are closed for lunch 12 - 1 pm.
Dental Plan Insurance Rating Software Provided by QuoteClick.com
© 2017

DEL AMO Insurance Services, Inc. Managing General Agent for MBA, Inc., Representing Nationwide Life Insurance Company.
2017-11-29T10:08:25+00:00 Harbor City - Los Angeles, California.